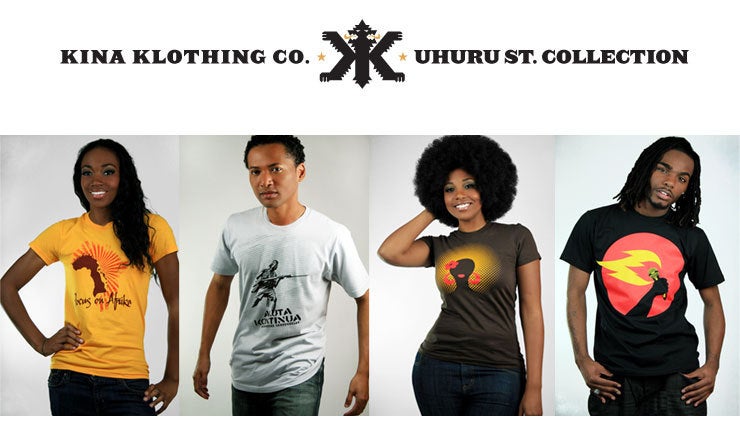 Kina Story
We chose "Kina," a Kiswahili word meaning "depth" to represent what we want to portray in our designs. With every piece we attempt to stimulate a curiosity on the viewer while saying something positive about the person wearing the tee.
Kina Klothing is Pan Afrikan, Art, Bongo Flava, Afro Beat, Taarab, Fashion, Poetry, Sankofa, Jazz, Pop-Culture, Fela Kuti , 60s, 70s, 80s Afrika, HipHop, Illustration, Cassette tapes, Street, Soul, Vinyl records, Politics, Animation, Disco, Electronic, basketball, fun, Zouk, Bolingo, Photography, Soccer, Play, CDs, mp3s, Graphic Design…everyday people.
The Kollektion:
Uhuru Street combines street insight and "uhuru" (freedom) a concept that is central to our creative aspiration. It is the first of a series named after various streets in Tanzania.
This collection almost exclusively features work inspired by popular culture and visual language of Tanzania, our homeland, and the place we feel most free.
Next collection, Samora Ave.